As Diana Whitney tells
At first I thought it was a hemorrhoid. I was itching a lot and found blood in the toilet consistently for a few months. "That's not normal," I thought. So I went to my gynecologist, who actually told me years ago that I had HPV.
She did a vaginal exam and said, "Everything is fine." Then she did a digital rectal exam and I kind of jumped.
"Wow, that really bothered me," I told her.
"Well, the anus and the vagina are close together," she replied. She assured me I was fine, but I knew something was wrong. I could feel this thing that I thought was a hemorrhoid getting angrier and angrier. I remember sitting in front of me in Pilates class with my legs outstretched – it felt like I was sitting on something.
The next day I went to my gastroenterologist. I had a gastro-doctor since I was 40 because my grandmother had colon cancer and I had a colonoscopy. I told him about what I was experiencing and he said, "OK, we're going to take the most embarrassing test ever."
Then he did an anoscopy, where he inserted this tube with a light into my anus to see the tissue. When he finished, he didn't look at me. "We have to do a sigmoidoscopy tomorrow," he said.
"What's this?" I asked. I really trust this doctor. He explained, "It's like a colonoscopy, but it looks at the anal canal."
After we did this procedure, he told me I had a malignant tumor. The good news was that it was treatable.
So I looked at my watch and said, "All right, let's do this."
We followed up with a CAT scan, an MRI, PET scans, and lots of different tests. I learned it was stage 2 cancer. I never cried or resented my diagnosis even though I was in shock. I knew I had to go forward and focus on getting rid of the tumor. I treated it like something to remove, almost like a wart.
I taped a piece of paper on my notice board that recorded the days of radiation I had to endure. It was standard treatment for 28 days plus oral chemotherapy. Every day when I got home from the hospital, I crossed off a day. At Sloan Kettering, I always had my friends with me. I'm not married, but I have a strong group of friends. They kept me company, supported me, and asked any questions I missed. The providers finally named us the Real Housewives from Sloan Kettering!
When my oncologist first walked into the room, I thought, "Oh my god, is this my doctor?" He looked like he was 12 years old. But he was so good and always listened to my questions. I'll never forget when I was fitted for my custom cast – which will keep you in the exact same place every day for radiation – he came over and rubbed his shoulder and asked, "Are you okay?" That gesture meant everything.
My doctor warned me the treatment wouldn't be a walk in the park. At first I wouldn't feel anything, he said, but towards the end it would be rough. For the first three weeks I was fine – I walked across town to the cancer center. Then it got worse. I was in a lot of pain and burning sensation when I went to the bathroom. I've lost my appetite. I stopped going to the hospital and needed a special "donut" to sit down comfortably.
Fortunately, I used vaginal dilators, a new therapeutic technique, to protect my womens parts during radiation. I have since spoken to anal cancer patients who have not used dilators and who unfortunately experience pain during intercourse.
I stayed very positive throughout my treatment. I said to myself, "When I'm done with this, I'll have a big party."
I hosted this party at my friend's restaurant bar in Manhattan in April 2018. I invited my oncologist, gastro-doctor and their nurses and had individual plaques made for everyone. Justine Almada, my good friend and executive director of the Anal Cancer Foundation, came and spoke because I wanted a lesson.
It was a very fun night. We had toilet paper centerpieces, an ass pinata, bags of hemorrhoid cream, and a large donkey shaped cake. It was hysterical! My comedian friend who is very dirty did a set. We played music from the 70s and 80s and to my surprise the doctors were the last to leave.
Lillian Kreppel at her party after cancer in 2018
Then I started volunteering with the Anal Cancer Foundation. The more I talked to people, the more I heard the same story: my doctor thought it was hemorrhoids. My doctor told me to go home and put some cream on it. It wasn't even on their radar.
Nobody talked about the HPV connection. I heard from other patients that their gynecologists missed it too. One woman had seen a poster in her doctor's office listing all types of cancers in women and there was no mention of HPV. In fact, there are seven HPV-related cancers, five of which affect women: cervical, vulvar, vaginal, oral, and anal.
I did further research and saw a post from actress Marcia Cross who revealed that she had anal cancer related to HPV. I got in touch with her immediately through a friend and Marcia was amazing from the moment we spoke on the phone.
We have now been traveling the country together for over a year, speaking at conferences and summits about what we went through to save lives. We have built a strong bond – there is no one I want to do this important work with. It is a great honor for me to call you my dear friend.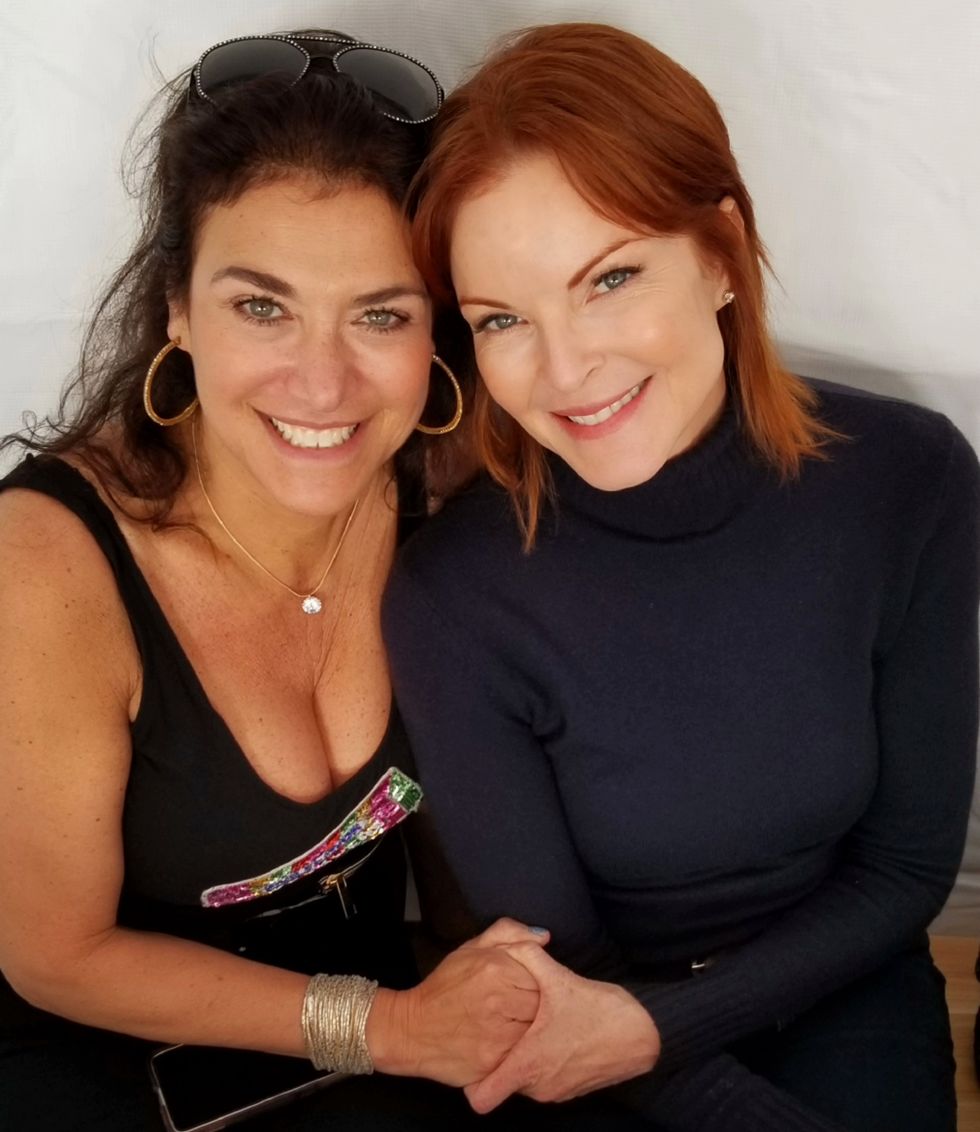 Lillian Kreppel and Marcia Cross at a conference in 2019
Realizing how much it takes to raise awareness of this common disease, I started the HPV Alliance, a nonprofit that aims to fill the gaps in consumer and provider information. There is so much misinformation out there about HPV despite being one of the most widespread viruses in the world. If a woman has an abnormal Pap smear, it usually means she has HPV, according to Dr. Stephanie V. Blank, a gynecological oncologist on my board of directors at the HPV Alliance. I think women should always ask about their diagnosis because doctors often don't tell.
I learned that you can have HPV even if you only had one partner. You can get it by open-mouthed kissing because it is a virus and is not necessarily transmitted through sexual contact. I am dedicated to spreading knowledge and saving lives through education, HPV prevention, and detection of the seven cancers.
People are ashamed to talk about anal cancer. You are squeamish about this part of your body. A year ago Marcia was attending a Farrah Fawcett Foundation event in Hollywood and a woman of 60 came up to me. She said, "Oh, you have to help me. I told everyone it was colon cancer."
I said to her, "Look, you have to say what it is. When you say that it helps people learn about their own health, relate to it and be vigilant."
I want to destigmatize anal cancer and encourage women – and men – to take responsibility for their health. It is imperative that we involve the medical community in this conversation so that what happened to me does not happen to anyone else.
Lillian Kreppel is a cancer driver, speaker, entrepreneur and changemaker. After her diagnosis of anal cancer in 2017, she founded the HPV Alliance Organization and was passionate about the prevention and treatment of all HPV-related cancers. She is on a mission to change the negative stigma by whispering the words "HPV" and "Anal Cancer". https://hpvalliance.org